O Processo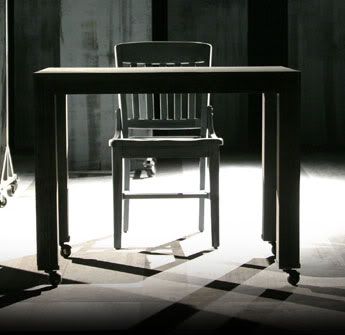 Tudo começou da forma habitual:
- Where were you born?
- Angola.
- What's your nationality?
- Portuguese.
- Where do you live?
- Portugal.
Olhar desconfiado, mão na cabeça, provavelmente à procura de um cérebro que nunca lá esteve.
- So you were born in...
- Angola.
- ...and you're a Portuguese citizen.
- That is correct.
Olhar de lado. Afasta-se e volta com o malfadado papelinho para a inspecção secundária. Lá vou eu para a imigração de passaporte na mão. Entrego-o a um Big Mac ambulante, de nome Rosa Villa, com um copo de 3 litros de cola na mão. Manda-me sentar e remexe furiosamente no computador. Chama-me:
- When was the first time you came to the US?
- Late 1999, I think.
- You think?
- Well, it was five or six years ago. Yeah, 1999.
- And what are you doing in Mexico?
- Working.
- Do you commute to Portugal? - ar escandalizado.
- Every five weeks, I do.
- Please sit down.
30 minutos depois a espécie de resevatório de colesterol volta a chamar-me:
- Do you know that you were in the US illegally in 1999?
- I was?
- Your Visa is from 2000, so when you were in the US in 1999, you were illegal.
- When was the Visa issued?
- January 2000.
- So I came here in 2000 for the first time.
- You told me 1999. How did you get in in 1999?
- I didn't get in in 1999, I came here in 2000.
- If you tell me 1999, it's 1999.
- I told you LATE 1999, I made a mistake, it was early 2000. It's a month's difference and it has been five years I can't remember the exact date.
- (Dedo ameaçador)Don't lie to me. Please sit down.
Computador, computador, cola, computador, conversa, cola, mais cola, computador. Chama-me:
- So you were working in the US in 2000?
- No, I was working for a European company in the US.
- Did you have a B1 Visa?
- I have no idea, should be on the passport.
- Do you usually get in with a B1 or a B2 Visa?
- I don't know, I give them the passport, they stamp it, I'm happy.
- Because you have a B1 Visa until 2010.
- Great.
- Why would you have a B1 Visa coming from a Visa-waiver country?
- Because I was staying for more than 3 months in 2000.
- hmmmmm, please sit down.
Mais 30 minutos. A experiência genética de colocar a gordura de uma foca num corpo acéfalo volta a chamar-me, desta vez de luvas nas mãos. Temi o pior, mas era só para tirar impressões digitais. De TODOS os dedos e das palmas das mãos também. Já estava pronto para me descalçar. Vem uma colega que era capaz de jurar que era a Dolly Parton pós-operação de redução:
- What's up with this one?
- Yeah, I think he's overstayed for like 5 years.
- Smart ass, huh?
- And he lied to me. Said he came in the first time in 1999 and turns out his VISA is from 2000.
- Will these people never learn?
(Inspira. 1, 2, 3, 4, 5, 6, 7, 8, 9, 10. Expira.) Volto a sentar-me. Espero. Uma hora desta vez. A cetácea bípede volta e convida-me para uma salinha onde está o cérebro do Silvester Stallone no corpo do Jô Soares.
- Do you know what perjury is?
- I do.
- Do you solemnly swear to tell the truth, the whole truth and nothing but the truth, so help you God?
- I do, but I'm an atheist.
- Can I see your California driver's license?
- I don't have one. You can see my Portuguese driver's license, if you'd like.
- Our records show a driver's license from California was issued in your name in 2000. (Saca de um folha, triunfante). Is this your signature???
- Looks like it.
- This is from the Department of Motor Vehicules, so I'll ask again, can I see your California driver's license?
- You can't because I do not have one. The only thing I asked the DMV in 2000 was an authorisation to drive with a foreign driver's license, which is what you have to do if you stay for longer than 3 months in California.
O Jô sai, presumo que para verificar com a DMV se a carta alguma vez existiu. Entra a Dolly Parton com a minha pasta. Pedem-me a carteira. O choque frontal entre um TIR carregado de queijo e uma fábrica de bacon desata a remexer em tudo e a fazer perguntas-rasteira para me apanhar.
- So when you first came to L.A. in 1999...
- It was 2000 and I went to San Francisco.
- Right. You were working for xxxxxx in San Francisco for how long?
- I was working for xxxxxx in Europe, assigned to San Francisco for a project.
- Right, but you don't have any American bank cards, that's weird. I mean you were working here.
- I was working for a European company, getting paid in Europe, assigned here. Now it's the same, only in Mexico.
- Right. Why do you have a Hertz Card?
- Because I rent cars.
- But isn't Hertz American?
- It rents cars in Europe too, do you want to check their website?
Pega na minha carta de condução, vira, revira, acontece o inevitável:
- Why does it say Angola here?
- That's where I was born.
- But aren't you Portuguese?
- Yes. Are you Spanish? No. Why? because what used to be a Spanish colony is now part of the US. The same with Angola, when I was born, it was Portugal, now it isn't.
- So what is it now?
- (1,2,3,4,5,6,7,8,9,10) An independent country.
Saca uma factura do hotel na cidade do México.
- I thought you said you were working here in Mexicali.
- I am.
- Then why do you have a bill from Mexico City?
- I went there for the weekend. I also have bills from here.
- Why did you go to Mexico City?
(Vai-te lixar, seu aterro sanitário de calorias! Que raio tens a ver com isso?)
- To visit.
- To visit whom?
- The city.
- Like a tourist?
- Like one of those.
Entra a Dolly de papel na mão.
- So?
- Clean. There's nothing on him anywhere.
- Yeah, but he's hiding something. I think he's overstaying since 1999. He's got a California Driver's License.
Foi neste momento que me transformei em barata de barriga para cima. O Jô voltou com o papel da DMV a confirmar que não havia carta nenhuma, havia uma autorização. Juraram que a DMV ia tirar o meu nome da Base de Dados, mas a "supersize-every-inch-of-me" ainda está convencida que eu, que entrei no país 9 vezes, que tinha carimbos de vários outros países no passaporte e que estava a ENTRAR no país, era um emigrante ilegal que nunca tinha saído. Desde 1999.